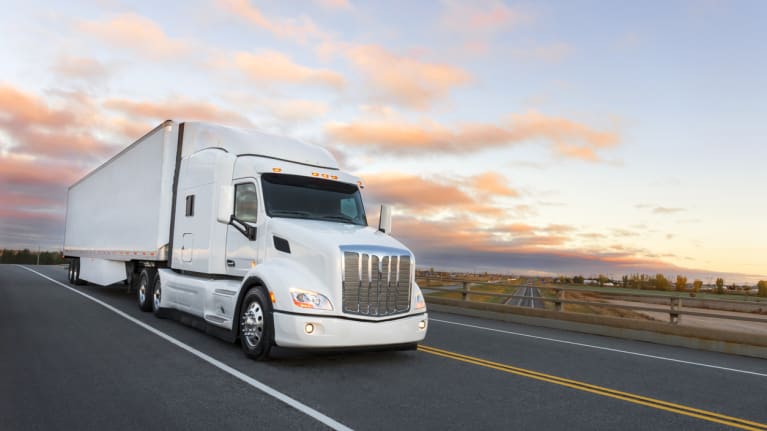 You may have heard that almost 75% of all goods transported in America go by truck.  This includes long haul, all the way to the "last mile" deliveries of your e-commerce purchases.
With the national labor shortage, trucking companies need drivers right now.  So if you've ever wanted the flexibility of a job with high paying options for employment in an industry that always has opportunities, now is a great time to consider getting your CDL and becoming a truck driver.
However, truck driving is not for everyone, and you will need to decide "is truck driving a good career move for me?" Although trucking may not be a fit for everyone considering it, the industry offers big advantages for truck drivers. This article should help you decide whether a trucking career is right for you.
Before you decide to attend a CDL training program, consider the advantages and disadvantages of being a truck driver:
Getting Paid Based on Productivity as a Driver.
Commercial truck drivers are usually paid in a way that is different than most workers.  They are paid based on their productivity, usually by the mile driven or the total load.  So there is some variation in weekly pay since it may differ from week to week.  The advantage is that YOU determine how hard you want to work and how much you want to make.  You can also choose the type of job you want: local, regional or over the road.  Each has its own advantages and shortcomings, but there are high paying jobs available with many different companies.  And in each case, what you earn has a lot to do with how smart and productive you are as a driver.  This worries some people, but the upsides to driver pay seriously outweigh the downsides.  Entry level drivers in their first year are making up to $60,000 per year, with all sorts of benefits, including bonuses, vacation, 401(k), health insurance and much more.
The Flexibility and Independence of Being a Professional Trucker
In a truck, your "office view" is the constantly changing scene out your windshield.  All day, every day, it is something new.  And you have more independence than most people.  This is something most truckers love.  No one is looking over your shoulder (unless you have a pet!), and for the most part you are making the decisions.  This may be difficult for some people, but most truck drivers learn to appreciate the independence, as well as the support that trucking companies provide their drivers.  They want drivers to be safe, happy and successful.  For those who want flexibility, trucking can be a great option since you are not doing the same thing every day as you might in an office or manufacturing job making "widgets."
An Industry Focused on Safety
While being a driver is known for offering great independence, the trucking industry is also focused 100% on safety.  This is a big advantage, as technologies are being developed to keep drivers comfortable and safe.  But it also means there are driving rules to follow.   Most drivers understand the "why" for the regulations: Protecting the driver and other road users.   Regulations such as how long you can drive, prohibitions on drug use, inspecting your truck and trailer, and securing your cargo, are for everyone's safety.  Although some rules can seem complicated and burdensome, in the end, they help all drivers as well as the public stay safe.
Living on the Road: the Pros and Cons
There is no question that a truck driver's lifestyle is unique.  It is a simple life that enables the driver to go anywhere with the basic necessities.  Although this "on the road lifestyle" is not for everyone, if you prepare and plan, you have self-contained living quarters, privacy, and control of your work environment.  Most drivers purchase cooking and technology devices that make the truck tractor their "home away from home" for food, entertainment and exercise.   Creative food preparation helps them avoid the meal choices that you find at truck stops.  Drivers get creative with small fridges, microwaves, salad options, fruit smoothies, and other lifestyle and meal choices that make living on the road an adventure.  With streaming services and social media, most drivers find that entertainment and communication with others is easy and relaxing.  And when you need to be home, most trucking companies know they must offer home time arrangements that fit your needs.
Exploring the Roads of America
Ask any driver about this country, and they can tell you all the places they've been in America.  This is truly one of the most interesting aspects of being a professional driver.  Drivers see fall foliage, mountains, farmland, cityscapes and America's roads and rivers.  A professional driver is a paid traveler, and with a co-driver buddy or spouse, it can be an adventure.  Sometimes it may not be spectacular – it's just a road.  But ask a driver to describe everything they have seen, and you will understand why many drivers absolutely love what they do.  Again, travelling is not for everybody, for sure.  But if you have always wanted to see what this country has to offer, trucking is an opportunity to do it while you are being paid!  Some truckers bring a bike, golf clubs or a fishing rod, so that when they have the chance (yes, it takes planning!) they can enjoy the travel that trucking offers.
Run Your Own Small Business
Not everyone is wired to be in business.  But the reality is that most drivers are running a small business out of their truck.  Each truck is a little profit center.  As the truck operates, it earns revenue (income) and has expenses (costs).  There are not many jobs where you are responsible yourself for making a profit.  So trucking provides a unique opportunity to be an entrepreneur.  Many truckers own their own truck and operate it as a business.  These are known as "independent owner-operators."  In fact, most of the biggest trucking companies started out as one driver with one truck.  They grew until they had hundreds of trucks.   Like you, they had to start the business somewhere!
Job Security with a CDL
Having a special skill is the key to job security.  A CDL provides that security as long as you are careful.  There are so many jobs in the U.S. that require a CDL.  You are almost guaranteed to find an employer that can use the services of a truck driver.  Whether the economy is strong or weak, everything moves by truck.  As they say, "if you got it, a truck brought it."  Somewhere along the line, almost everything is shipped at some point in a truck.  That is why a CDL is such a valuable license.  And it gives you so many options it types of work, as a driver, a dispatcher, sales, safety, management, recruiting, logistics, warehousing, and many more.  Drive safely and use good judgment, and a CDL will make you money for years to come.
Fast and Career-Focused CDL Training
Training to get a CDL is the first step to a solid future in trucking. One big advantage is truck driver training is a pretty simple process, and is usually completed in a matter of about 4 weeks. With the new Entry Level Driver Training rule, everyone must go to an approved CDL training provider as of February 2022, and there are many training options. While CDL schools typically charge tuition, there are many ways to get help paying for school. These include workforce grants, scholarships, VA GI Bill, sponsored training, CDL loans, tuition reimbursement, and other options. Schools are designed to be fast but effective in preparing for the CDL test. This can be a little stressful for some students, but with experienced instructors, and classroom, backing practice and road driving, schools want students to succeed and help provide the tools to get there so you will be prepared as an entry level driver.
We hope this article helps you answer the question "is truck driving right for me?" Like all careers and jobs, the answer depends on the advantages and disadvantages for each person. SAGE is happy to answer any other questions you might have, so feel free to call one of our schools!