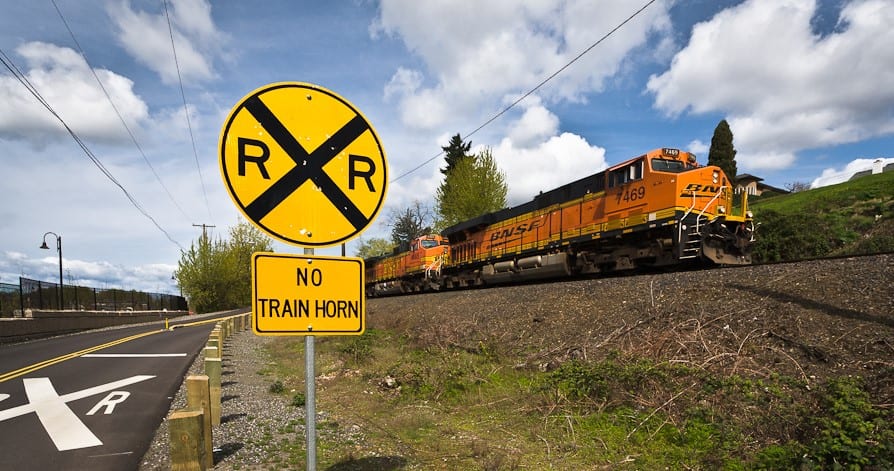 New truck drivers have a lot to learn about driving a truck, since trucks are very different from cars.  Each year there are thousands of collisions between trains and vehicles, and these collisions may result in injuries and deaths. SAGE Truck Driving Schools teach some basic rules about trucks at railroad crossings.
Here are some important safety tips for truck drivers when crossing a railroad track:
It can take the average freight train traveling at 55 mph a mile or more to stop.
At crossings, don't stop any closer than 15 feet. If you're in traffic, don't go forward if you can't safely clear the crossing.
Make sure that trailer jacks (landing gear) are in the up position; non-retracted trailer jacks can cause trailers to become stuck on crossings.
Approach tracks cautiously, and always expect a train, even on rarely used tracks. Be cautious any time, day or night, since trains do not usually travel on a regular schedule.
Turn on your four-way flashers to warn other drivers that you are slowing down.
Turn off any fans and music, and roll your windows down as you come to the track so you can hear well.
Once you are stopped, carefully listen for a train. Look both ways down the track. Be watchful of your mirrors, cab, or anything that may block your view. Look twice before proceeding.
If you see a train, understand that it is closer and moving faster than you think. Always wait for it to pass before proceeding across the tracks.
If you are crossing the tracks and you see a train coming, keep going. Do not panic and stop on the tracks. Remember, the train is at least three feet wider than the tracks on each side.
If you get stuck at the crossing, immediately get out and call the 800 number posted at the crossing, or call local police to alert trains of your position.