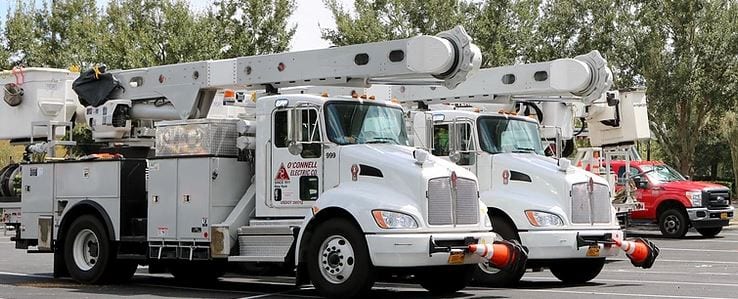 Guest Author: National Lineman Careers
Our nations truck drivers keep us supplied with food and all sorts of supplies, without them we would not be able to live the lives we do today. There is another group that is often forgotten and taken for granted: linemen. When was the last time you flipped on the light switch and wondered if there power was going to successfully be delivered? Linemen quietly play a critical role in our every day lives.
The first step to becoming a journeymen lineman is becoming an apprentice. The duties of a lineman apprentice are to assist company linemen in building and maintaining electrical power systems. Lineman apprentice responsibilities include taking measurements and helping journeyman linemen with equipment and various tasks.
The path to apprenticeships can be union or non-union. Across both circles it is widely accepted that having a CDL is what will make you most competitive for these positions. Apprenticeships are programs where you are paid to learn and so naturally there are limited number of apprenticeships each year in the line trade.
Getting a CDL offers very strong career flexibility for lineman. Not only does it allow you to enter the workforce quicker it also gives your stronger negotiating and leverage for working on projects in other states. While some utility licenses have geographic boundaries, a CDL is valid in every state (assuming it is legally issued in the state that you reside). Journeymen lineman often receive lucrative job offers to work storm recovery and power restoration. Transportation for the crew plays a critical role is getting a crew on the job and safely prepared on the scene.

The linemen career continues to be in strong demand, however it is important to note that more and more job postings from large utility companies require that the applicant has his or her CDL. A CDL shows commitment to the career path as well as a willingness to invest time into the needed professional development.
Having a CDL as a linemen also makes you a valuable contribution to the crew with which you work. The line industry places a huge emphasis on safety and the proper transportation and vehicle preparation is no different. Team members on a job site will appreciate the value that a CDL brings to the table and the knowledge that it adds to the group work environment.